More Welcome Homes - Names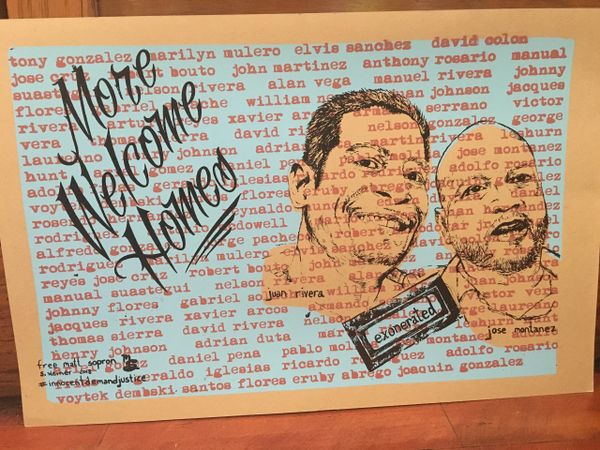 More Welcome Homes - Names
This Poster  lists many of the names of the wrongfully convicted framed by crooked Detective Reynaldo Guevara. It is powerful to recognize some of the names on the poster that have now been exonerated as well as be able to continue the fight of some of the other people still waiting for justice in these cases.
It is also a very unique collaboration with the artist Matt Sopron currently wrongfully convicted and serving time in the maximum security prison in Menard, Illinois. I knew Matt's incredible family from the old Comite Exigimos Justicia activism years. I have been following Matt's and his family's posts on Facebook and that is how I was able to get the idea for this poster to him directly. He did the calligraphy specifically for this poster and of course knew personally so many of the people named. I'm honored that the posters  include Matt's name and his artistic logo as part of the collaboration. Not only has Matt Sopron been named Artist of the Year in Prison Arts circles, but his work will be featured in September 2018 in a national prison art magazine. I look forward to his Welcome Home party very soon !
The poster also includes portraits of Juan Rivera and Jose Montanez who are both now free and activists in the national group for exonorees Justice4JustUs   . Jose Montanez was one of the early Guevara cases that was exonerated after 23 years in prison.
This poster is hand screened and in a very limited edition.