More Welcome Homes hand screened poster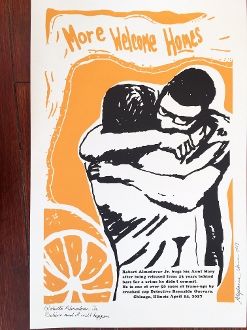 More Welcome Homes hand screened poster
I have just finished making this hand screened poster about the release of Robert Almodovar Jr. from behind bars after 23 years for a crime he didn't commit. Robert is one of over 50 cases of frame-ups by crooked cop Detective Reynaldo Guevara. This case is particularly close to my heart since I worked for many years in the late 90's and 2000's with the Comite Exigimos Justicia, the group of family members and supporters that helped connect the dots on what this detective was doing in the Puerto Rican Humboldt Park neighborhood of Area 5. Below is the Buzzfeed video with the live footage of his release at the jail gate.
I have gifted a number of posters to Robert and his family as well as many of the Comite Exigimos Justicia families. I have a limited number of remaining posters that I am offering for sale. Robert was originally given a death sentence which was later changed to a life sentence. When he was given a new day in court, he was moved up to Galesburg prison. He commented to his Aunt Mary that he ate his first fresh orange in 17 years. The poster incorporates that orange into the design. These posters are particularly meaningful because Robert has only been home since April 14th, but wanted to sign each one personally and add a message that seems to exemplify his positive personality.
The 19 x 12 ¼ poster is printed on archival paper. There are a limited number of these, so it is VERY important to stake out your poster immediately for your workplace wall, home or an incredibly meaningful gift for someone.