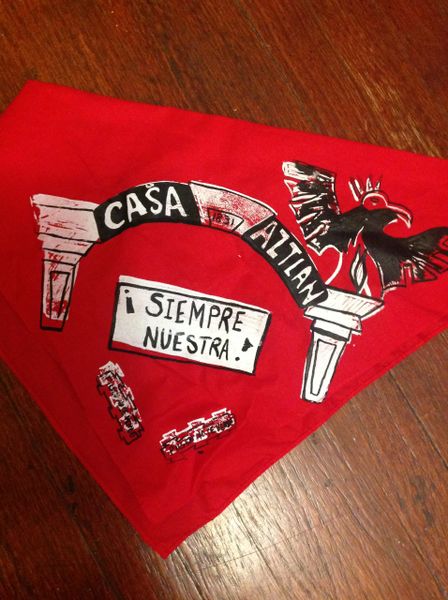 Casa Aztlan Bandana
    This  bandana was designed as a way to support the Pilsen No Se Vende campaign against gentrification. This image shows the original doorway of Casa Aztlan in the Mexican neighborhood of Pilsen in Chicago  with a Phoenix bird rising from the fire. 
The actual building was sold to a developer and now is being made into luxury apartments. Recently, when the CityPads developer painted over the historical Chicano activist murals, the community organized many protests to demand
 low income housing for the Latino immigrant community here
historical mural protection legislation
money for social justice youth arts education
A new community center with room for classes-holistic medical services-large gathering spaces-
 and definately
 A new Alderman that will actually listen to resident needs .
The design on this full size cotton  bandana shows a Phoenix bird rising as this incident of racist gentrification has sparked a new movement that has won some victories already. 
Wearing this bandana or giving it as a gift helps get the word out to people in Chicago or in other cities also struggling against gentrification's displacement as well as some of the money goes to help with supplies for activists here. 


People who are interested in this can also check out the book Chicanas of 18th Street listed in the poster category as well as get involved with groups like  Pilsen Alliance